Automatic Powder Packing Machine Production Line
Technological process

Feeding material → "U" shape horizontal screw feeding material →Screw measure machine →automatic packing machine
Mail features

1、The system is reliable, strong applicability, high precision, stable quality easy to manage.
2、professional material handling ability, cooperate with user measuring properties of raw material, the whole conveyor system use PLC coordinate with pneumatic valve, through the photoelectric control to achieve the purpose of automatic feeding.
3、Friendly man and machine interface, can connect each type of controller, perform quantitative measurement or ingredients of process control, when full material ,valve will close automatically, need material valve open automatically ,ensure that each machine reach to set material level.
4、Rich experience in systems integration, all sorts of equipment design according to user requirement.
5、Reasonable layout design, configuration according to customer's production and workshop condition.
6、easy to clean, lock type "U" shape horizontal screw cap, open convenient, without residual material. Screw is composed of segments ,easy disassembling and cleaning.
7、The whole machine for stainless steel ,all equipments structure designed according to hygienic standard of food and drug.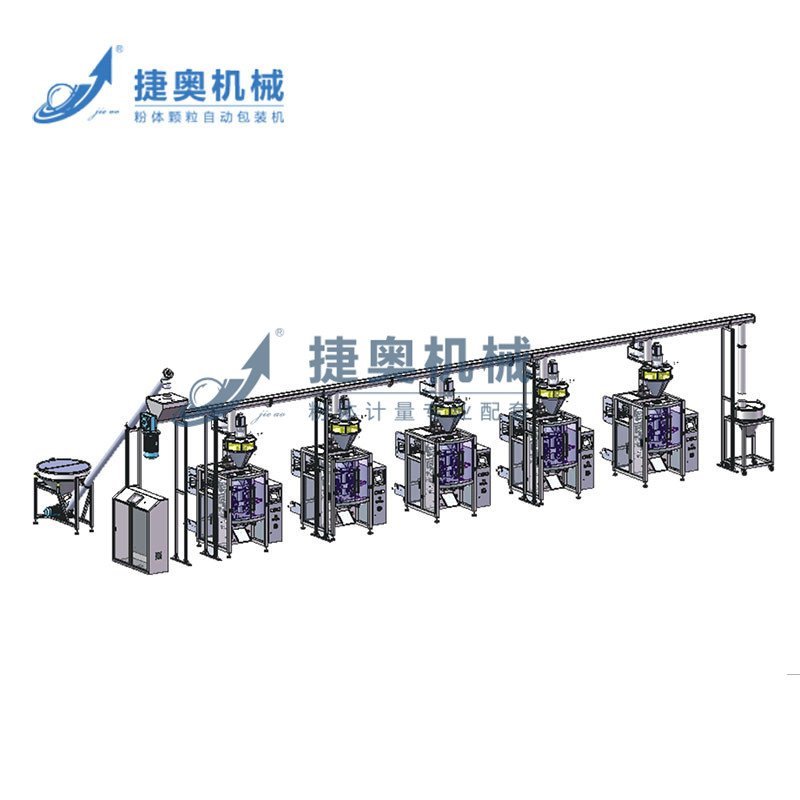 Suitable for packaging milk powder, protein powder, solid drinks, white sugar, glucose, coffee powder, flour, flavors and fragrances.
Business Advisory: (+86)13590624812 Elsa
(+86)13119876837 Sharon
Technical service: 0757-81082613
E-mail: sharon@jieaopacking.com
elsa@jieaopacking.com
Chinese website: www.jieaopack.cn
Ali integrity through: jieaopack.1688.com
Office add: NO3, Keyun middle road,technology industrial park A area,Shishan town,
Nanhai district,Foshan city,Guangdong,China